Animals
Abused Senior Finally Finds Her Forever Home After 10 Years In A Shelter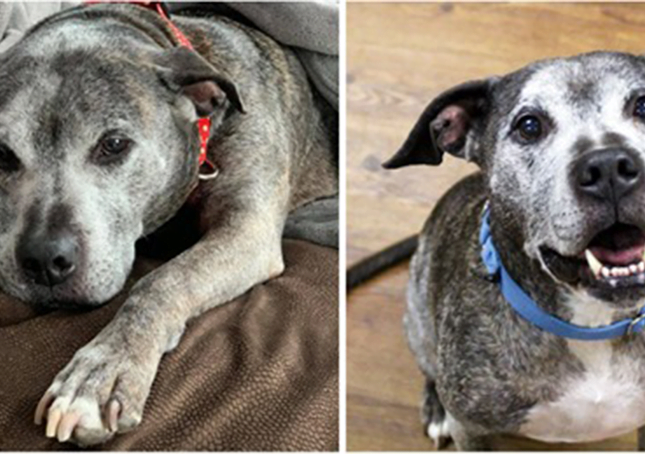 In 2011, a man named Ernie Moss witnessed a horrifying scene. While walking his dogs, he came across an object shaking in a ditch. When he got closer, he realized it was a Pit Bull in critical condition. She seemed to have been beaten. Her mouth was bound with electrical tape and her legs were tied together. Moss struggled to free the pup as he told his wife to call for help.
Capital Area Humane Society (CAHS) rushed to save the dog. By the time they arrived, Moss had just barely broken the restraints, but the dog was nearly frozen to the ground. If they hadn't acted fast, she would have suffered a painful death.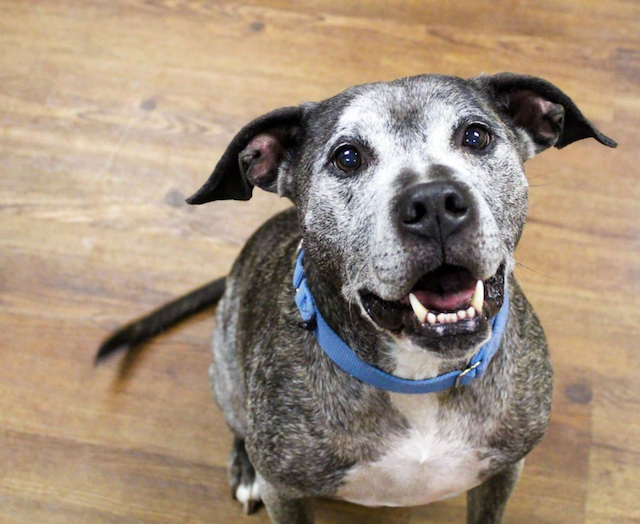 - Advertisement -
Pit Bull Defies Odds
CAHS named the Pit Bull Tatiana, also known as "Tater Tot" or "Taters." Tatiana stayed at that shelter for about a year and a half, slowly recovering from her many injuries. Her conditions ended up being more severe than anyone would have guessed.
"It was evident from the very beginning that being restrained, and left in the cold for dead, was not her only worries," CAHS said. "With only a quick glance, it became obvious that she was suffering from extensive injuries to the head. She was immediately transferred to a local veterinary office for care and diagnostic testing."
- Advertisement -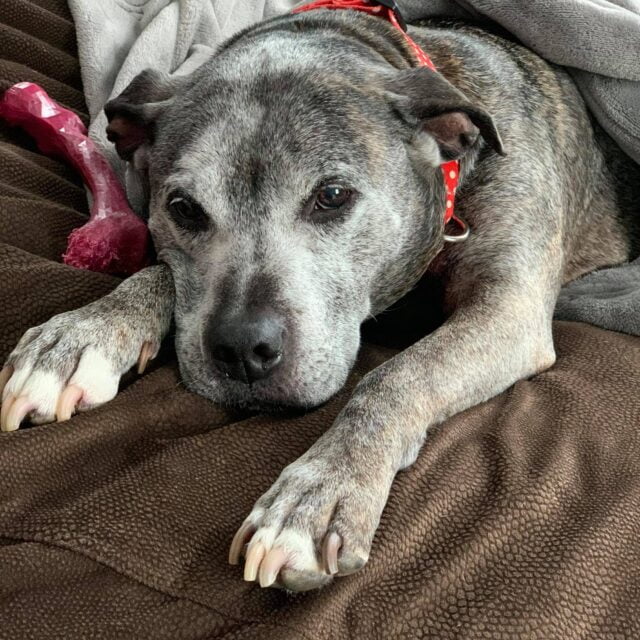 After her initial medical care, Tatiana was sent to Mackenzie's Animal Sanctuary, which welcomed her with love and support. She was still overly nervous around dogs and humans, especially men. It would take a long time for anyone to gain her trust again.
While Tatiana's abuser was found, shelter staff agree that he wasn't properly punished. He pleaded no contest to his animal abuse charges. He was ordered to pay $10,000 in fines, and only went to jail for 43 days instead of his ordered 93 days. For what he did to this sweet dog, he should have received much harsher consequences.
- Advertisement -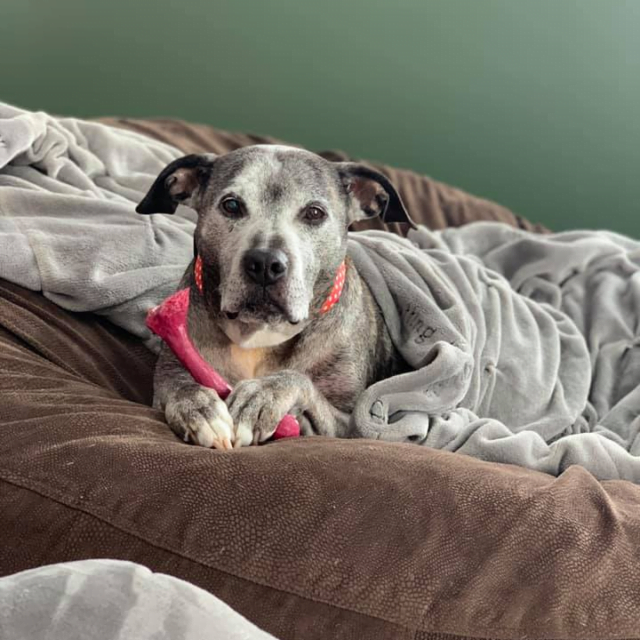 Tatiana's Golden Years
Finding a home for Tatiana was incredibly difficult due to her fearfulness. But over time, the shelter staff gained her trust. She quickly became a favorite around the shelter.
- Advertisement -
It wasn't until Tatiana's senior years that she was considered adoptable and less scared of the world. But senior Pit Bulls who need to be the only dog are not in very high demand. As the years went on, Tatiana continued her life at the shelter, but it wasn't enough. So, a volunteer named Michelle stepped in to help. She started by fostering Tatiana on the weekends, but then she chose to be her permanent full-time foster home.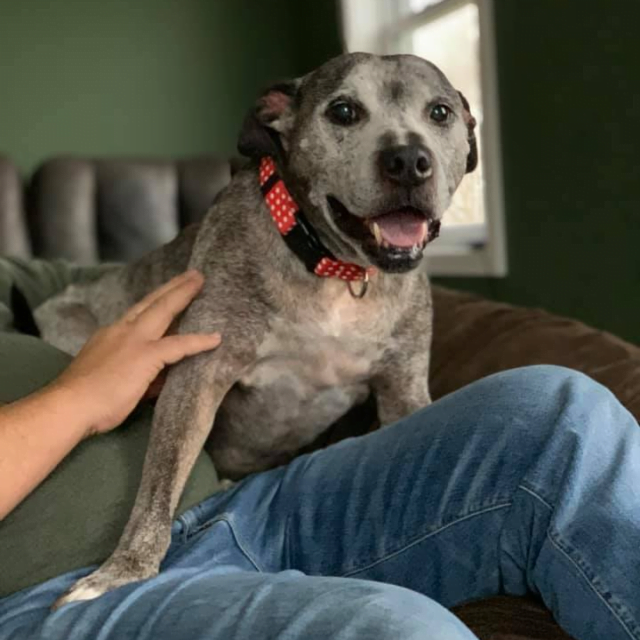 "Mackenzie's established volunteers are able to permanently foster the rescue's harder-to-place dogs. After everything Tatiana has been through, she'll now get to spend her golden years in a loving home," Mackenzie's Animal Sanctuary wrote.
- Advertisement -
After spending 10 years in the shelter system, Tatiana finally has a loving home to live out her final years in. And it looks like she has already made herself at home. Thanks to her kind rescuers, she is able to experience love and joy after a heartbreaking past.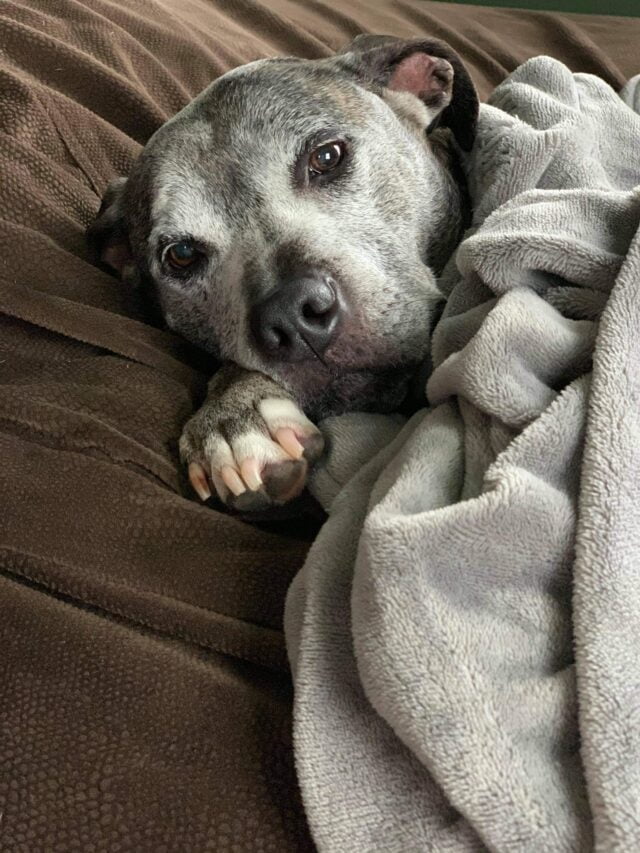 Please SHARE to pass on this story to a friend or family member.
- Advertisement -