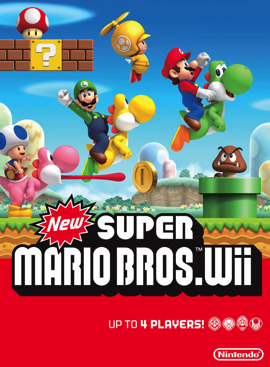 New Super Mario Bros. Wii[a] is a 2D side-scrolling platform video game developed by Nintendo for the Wii. A follow-up to the 2006 Nintendo DS game New Super Mario Bros., it was first released in Australia, North America, and Europe in November 2009, followed by Japan a month later. Like other side-scrolling Super Mario games, the player controls Mario as he travels eight worlds and fights Bowser's henchmen to rescue Princess Peach. Up to four people can play in cooperative and competitive multiplayer modes, taking control of Mario as well as Luigi and one of two multicolored Toads. The game also introduces "Super Guide", which allows the player to watch a computer-controlled character complete a level.
Shigeru Miyamoto had held desires to create a Super Mario game with cooperative multiplayer since the series' synthesis. After failed attempts to integrate it into Super Mario 64 due to hardware limitations, he was able to fully explore the concept with the advent of the Wii and its more advanced hardware capabilities. Having developed New Super Mario Bros. and feeling that it was not as challenging as he hoped, Miyamoto designed New Super Mario Bros. Wii with the intent of accessibility for players of all skill levels. Features such as Super Guide and the ability to enter a floating bubble on command and opt out of doing a certain part of a level was added to cater to beginners, whereas other details, such as an award for not prompting the Super Guide block to appear in any level, were added to provide a layer of difficulty. Shiho Fujii and Ryo Nagamatsu composed the game's soundtrack, whereas Koji Kondo, the series' regular composer, served as sound adviser.
The game was announced following a slight drop in profits, with Nintendo hoping its release would help to rejuvenate sales of the Wii. New Super Mario Bros. Wii was both critically and commercially successful, receiving particular praise for its multiplayer aspect, although some critics were disappointed by the lack of innovation compared to previous Super Mario titles. It received several honors, including the Best Wii Game award from the 2009 Spike Video Game Awards, IGN, and GameTrailers, and is the fourth best-selling game for the Wii as of March 2021, having sold 30.32 million copies worldwide.[7] It was followed by New Super Mario Bros. 2 for the Nintendo 3DS in July 2012 and New Super Mario Bros. U for the Wii U in November 2012, and was remastered in high-definition for the Nvidia Shield TV in China in 2017.[6]
- Advertisement -