Health
Wife Dies Hours After Giving Birth And Husband's Gut Tells Him To Check Her Blog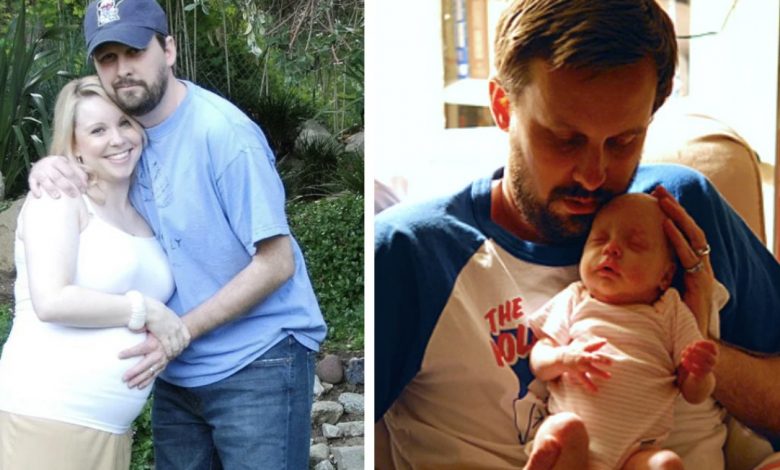 Matt Logelin didn't know what he was going to do when his cherished wife, Liz, died hours after giving birth to their baby girl. But something inside led him to her pregnancy blog. And that led Matt on a real-life inspirational journey through grief to finding life after heartache.
Matt Logelin and Liz Goodman high school seniors when they met at a gas station. Liz had trouble pronouncing Matt's last name and the two hit it off immediately. After that, you couldn't find one without the other. That is. . . until it came time for college.
Distance separated the high school sweethearts, as Liz headed to college in California while Matt remained in Minnesota for his studies. But the young lovebirds remained committed to one another, even as Matt completed his Bachelor's degree and headed further away to Chicago to earn his Master's.
The next step for Matt was to go after his Ph.D. But his heart was telling him God wanted him somewhere else. After so many years apart, he knew his place was with Liz, who was living in Los Angeles.
The Next Step In A Beautiful Love Story
In 2005, Matt moved out to California to once and for all put an end to the long-distance part of the couple's relationship. The two relished their newfound time together by traveling the world. While they were in Nepal, Matt asked Liz to join him in their next big adventure — marriage.
Of course, she said "yes." And the two married later that same year.
Life just kept getting better. Both Matt and Liz were enjoying success in their careers. They purchased a house together and soon conversations turned toward starting a family.
In 2007 that dream came true. Doctors informed the elated couple that Liz was pregnant with their first child — a baby girl!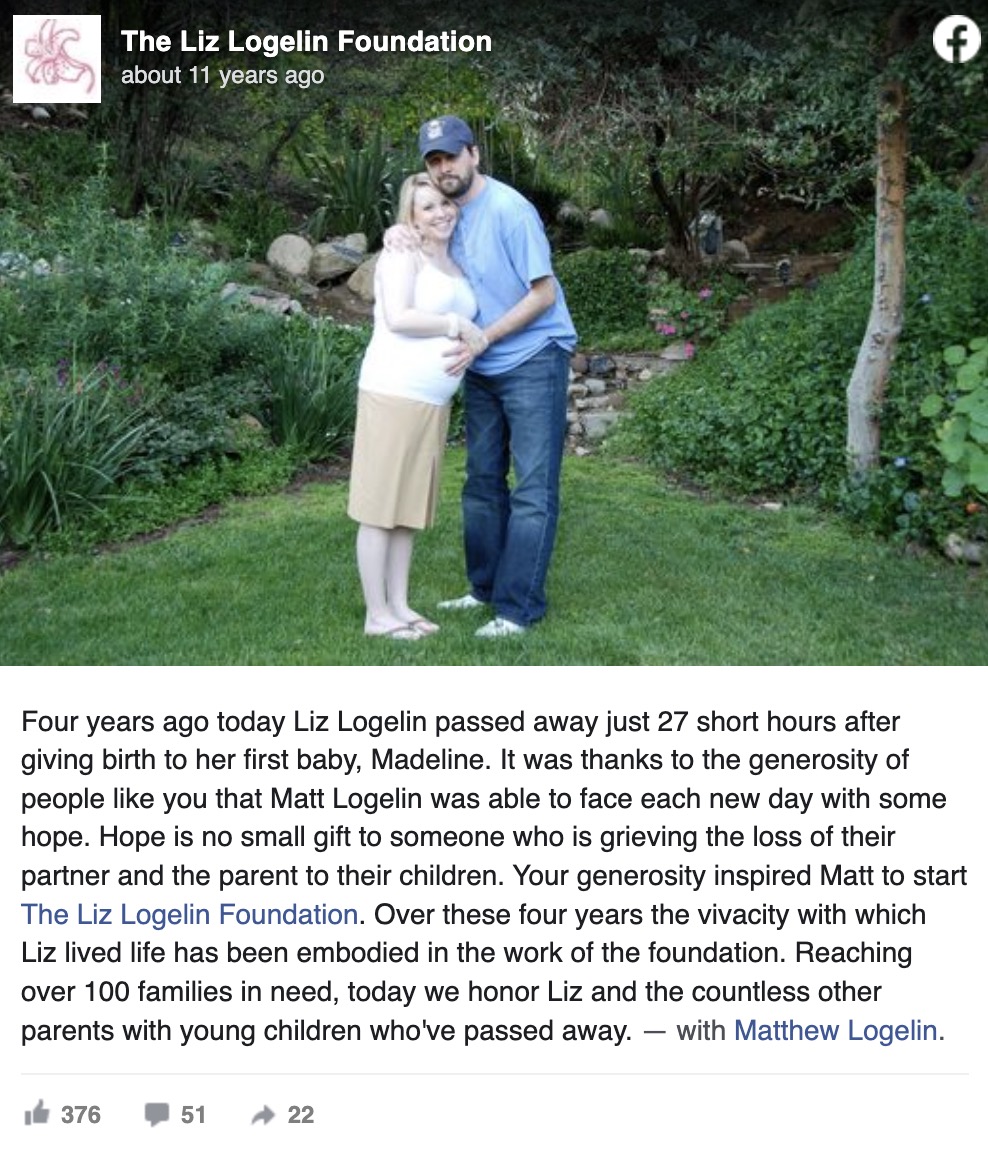 Since Matt and Liz lived so far from their families back in Minnesota, Liz decided to chronicle her pregnancy through a blog. The excited couple posted precious photos and updates to keep everyone in the loop.
But the first-time pregnancy wasn't an easy one. Severe morning sickness plagued Liz and doctors put her on bedrest for a bit. Matt kept the blog going, keeping everyone at home updated. But neither he nor Liz realized just how important that blog would become.
Meeting Their Little Miracle
Just seven weeks before Liz's due date, doctors rushed the new mom into the delivery room for an emergency c-section. Thankfully, the surgery went well and their healthy, albeit premature, baby girl came into the world.
As a preemie, Madeline (Maddy) Logelin just barely tipped the scales at 3 pounds 14 ounces. Her proud parents gazed lovingly upon their precious blessing until the nurses rushed her off to the neonatal intensive care unit.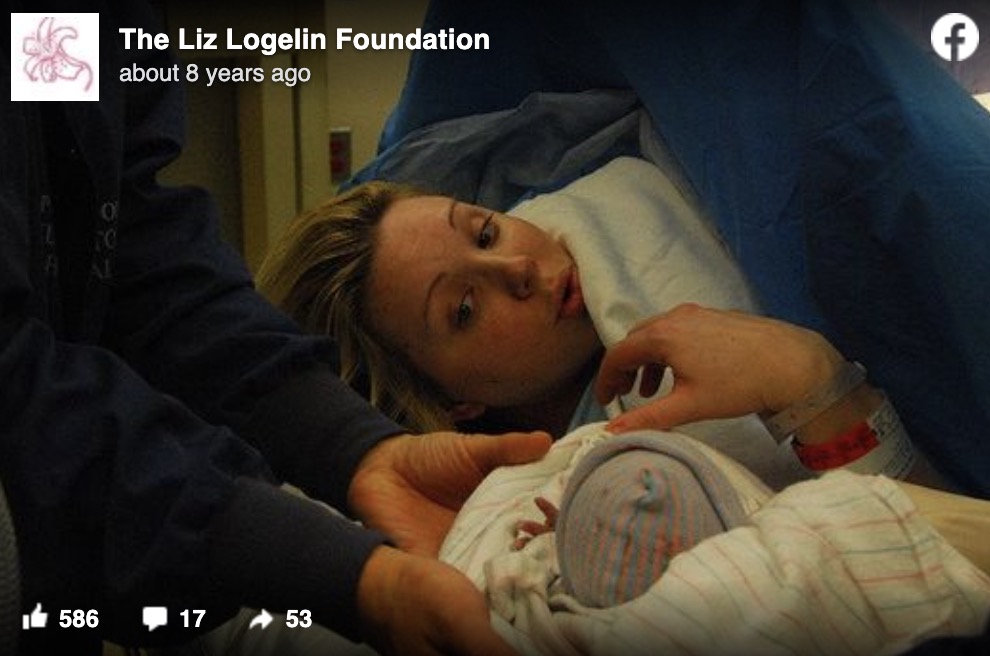 Matt broke the good news on the blog, still reveling in the euphoria of becoming a new dad. Liz couldn't wait to hold her sweet, tiny girl. But doctors wanted the new mom to get 24 hours of bedrest first. Then, nurses put Liz into a wheelchair and took the eager mom down to see her little angel.
As Matt tenderly helped his wife out of the wheelchair, things took a terrible turn. Liz suddenly felt light-headed and collapsed into Matt's arms. Nurses tried calming the nerve-wracked husband, chalking it up to exhaustion. But he just knew something was wrong.
"Suddenly there's this 'code blue,' people rushing past me," Matt recalled. "All of a sudden it hit me. She was going to die, today, here in this hospital. And she was never going to hold her baby."
Wife Tragically Died Hours After Giving Birth
Things escalated quickly. Joy turned into terror, which then turned into agony as Matt's wife died hours after giving birth to their baby girl.
A blood clot managed to travel from Liz's leg to her lung, causing a rare but fatal pulmonary embolism. Liz was just 30 years old and had only been a mom for 27 hours. And Matt found himself having to follow up on the joyous pregnancy announcement on the couple's blog with the worst news imaginable.
God certainly blessed Matt with Maddy for a reason. His beautiful daughter kept him from crumbling completely. Yet, the tragic loss of his wife completely devastated Matt.
"I felt overwhelming joy when I saw my daughter. And at the same time, my world just fell apart," he said.
Matt was in utter turmoil. Suddenly he was a grieving widower and single dad, all at the same time. He rushed from Liz's funeral to the hospital, still in his suit, so he could feed his precious newborn.
Soon, he was bringing Maddy home, both a joyous and nerve-wracking occasion. With Maddy at home, the house "felt alive again." At the same time, Matt faced raising his daughter alone — a scary prospect for a first-time dad. What does a man whose wife died hours after giving birth do?
Blogging Becomes A Crucial Part Of The Grieving Process
Matt kept Liz's wedding ring on his finger to honor his late wife. He just couldn't bring himself to take it off. Every day around 3:11 p.m, Matt had flashbacks to the moment when everything changed — when he lost his wife.
The heartbroken husband knew he needed to grieve. But he also knew he needed to be present for his daughter. Something inside Matt compelled him to go to the computer and continue updating the pregnancy blog. We know that something was the Holy Spirit.
What started as a way for Matt to get the news out about the tragic turn of events, God transformed into something therapeutic. Matt poured all of the emotions he felt as a sudden widower into the blog.
He kept going back, posting more updates. And before he knew it, tens of thousands of people were reading the blog every single day. Support flooded in from strangers all around the world. And the blog became a lifeline, pulling Matt through the grieving process toward hope. It's remained a place where the loving dad chronicles his adventures in raising a precious daughter and in finding life after heartache.
WATCH: Husband Grieves Through Blog After Wife Tragically Died Hours After Giving Birth
True Story Inspires Fatherhood Movie With Kevin Hart
With the success of Matt Logelin's blog, he then wrote a touching memoir, Two Kisses for Maddy: A Memoir of Loss and Love. From there, Paul Weitz and Dana Stevens turned Matt and Liz Logelin's real-life story into the movie Fatherhood starring Kevin Hart in 2021. It can be found on Netflix.
There will always be unexpected grief and heartache in this world. But God will always make good on his promise to somehow work all things, even the tragedies, together for good.
h/t: Direct Exposure
Featured Image Credit: Facebook | Youtube/Rachael Ray Show